Here's a few of our favorite friends, local businesses & resources,
whom we highly recommend & encourage you to support!
(Please tell them you saw them on LAKESIDE PET SERVICE's website ;-)
---
Animal Shelter (Adopt A Pet, Enrich Your Life!)
Noah's Ark Animal Welfare Association, Inc.
1915 US Highway 46
Ledgewood NJ 07852
Tel. 973-347-0378
---
Automotive Repair
L & S Auto Specialties
450 River Styx Rd
Hopatcong NJ 07843
Tel. 973-398-8644
---
Barber Shop (Specializing in Men & Kids)
Amy's Barber Shop
5 N Main St
Wharton NJ 07885
Tel. 973-328-9208
---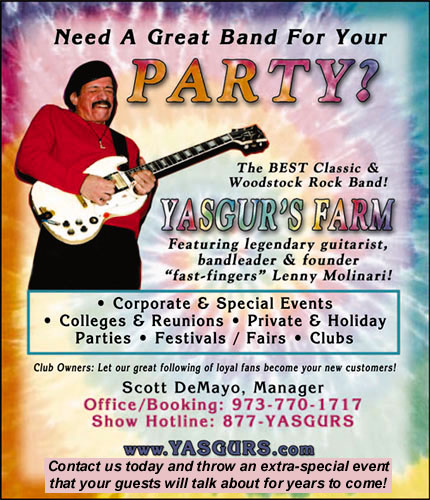 Classic & Woodstock Rock Band
(GREAT Live Music for Private & Holiday Parties, Reunions, Corporate & Special Events)
YASGUR'S FARM
PO Box 1
Hopatcong NJ 07843
Tel. 973-770-1717
Music by YASGUR'S FARM is playing on this page.
---
Dog & Cat Grooming
(Local Groomers Wanted, please Contact Us!)

---
Food & Beverages
3in1 Deli & Catering
50 Hopatchung Road
Hopatcong NJ 07843
Tel. 973-398-5009

Lakeland Delicatessen
16 Mount Arlington Boulevard,
Landing NJ 07850
Tel. 973-398-8670

The Liquor Factory Store
128 Lakeside Blvd
Hopatcong NJ 07843
Tel. 973-398-6143
---
Online Games, Quizzes & Fun Sites
Adoptme.com
Adoptme.com is a fun website where you can adopt free virtual pets such a dogs, cats, horses, turtles, monkeys, snakes, and fish, and then take care of them online. In addition, your pet will have their own blog and profile page, it can get a job, join a pet group, chat with other pets, send e-greeting cards to other pets, enter the Pet of the Month contest, and dress up in fancy clothes. You can even chat with your pet.

Boredom Busters
Curing boredom, one person at a time.
---
Real Estate (RE/MAX, First Choice Realtors)
Iris Orlinski (Broker & Salesperson)
211 State Route 10 E
Succasunna NJ 07876
Tel. 973-598-1008 Ext. 127

(Please tell them you saw them on LAKESIDE PET SERVICE's website ;-)